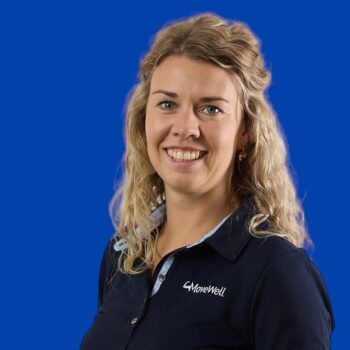 Merle Leemhuis
I am specialised in
Introducing Merle Leemhuis
Merle is the postural/ exercise therapist at MoveWell and has also successfully completed the Master of Geriatric Physiotherapy.
Merle, a down-to-earth, positive Tukker, grew up in a small, pleasant village in Twente, as part of a family of five where sport was always very important. As a result, she developed a passion for sports at an early age. She also knew she wanted to work with people, but wasn't sure in what capacity.
"During the fourth year of HAVO, I discovered the Cesar Exercise Therapy course and immediately thought: this is what I want. No sooner said than done. In 2013 I started the training and moved to Utrecht to live in a room. After four years, I decided to take the Master's in Geriatric Physiotherapy immediately after my bachelor's degree, because I see treating the elderly and complex conditions as a fun challenge. In 2017, I started the Master of Geriatric Physiotherapy and at the same time I worked as an exercise therapist and geriatric therapist in training at a primary care practice in Bennekom. Over the last six years I have treated many elderly people and patients with complex problems, which has allowed me to further develop as a geriatric exercise therapist.
For me it remains a challenge to help people and show them what they can still do, which is often much more than people think. I always look for the right treatment together with the patient and jointly set goals to work on. This way it is not just my treatment, but a collaboration between me and the patient."